I've done only two photo Christmas cards in my life...scratch that - the first one I was thinking of actually ended up to be a "Happy New Year!" card with our wedding photos on it three years ago. (And what's wrong with that? Nothing, I tell you.) So, last year's photo card (see below) was our first actual photo Christmas card. And I loved it. And I loved receiving everyone else's photo cards. So much so that I keep them on our refrigerator year-round. Yes...I do. (And what's wrong with that? Nothing, I tell you.)
We got two photo cards in the mail yesterday and I was excited to trade out last year's pictures for the newer ones. But I'll always keep the old ones...in fact, I keep them *all* in a box and I go through them each year and reminisce. True story.
If you're a returning
Shutterfly
customer, (and I know a bunch of us were
last year
!) here's an opportunity for you to receive $10 off your order. So easy!
1. Sign in to
Shutterfly
.
2. Click on "My Shutterfly" in the top menu.
3. Under "My Projects," click on "View All Projects."
4. Click the selection button underneath the project you want to share.
5. Click "Share Project" on the right hand side of the screen.
6. Give the project a title and description and press "Next."
7. This page will show you the details for the $10 off promo, including the code (to embed on your site) and where to send the email.
8. Embed your code on your blog or website.
9. Send an email to the given address. You should receive an auto-response back - and then receive your $10 off code within 10 days.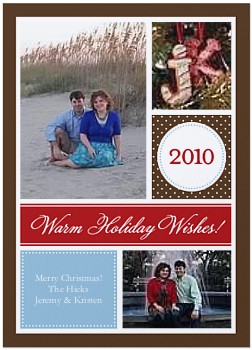 Seasonal Chic 2010 Christmas Card